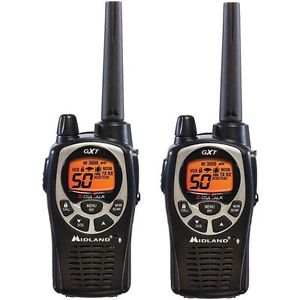 How to choose the ideal walkie talkie? Keeping in touch with other people is essential, especially if you are experiencing a survival or emergency, and choosing the right walkie talkie is very important. The best walkie talkies make it easy to communicate with your friends and family, even in areas where cell phones don't pick up any signals. Walkie talkies are also small, so you can take them anywhere with you, and the batteries last much longer than any cell phone.
In addition to communication, these two-way radios also provide a wide range of features, including weather alerts and SOS signals. The latest walkie talkies have also expanded radio ranges and frequency options and weigh significantly less, so you don't have to leave it behind if you get tired.
So, if you plan to go on a long trip, hiking, camping, fishing, or want to take part in some outdoor adventure, it is highly recommended that you get the best walkie-talkie for your needs. Here we will teach you everything you need to know before buying a radio communicator and then recommend the best 2020 walkie talkies.
Types of walkie talkies
There are many types of walkie talkies on the market today. One of the main questions that buyers face is: what to choose? To choose the right walkie-talkie, you need to decide how and where to use it. This area is poorly regulated in Brazil, so the main classification used abroad, radios without a license (FSR) and a license (GMRS) does not apply very well here.
Walkie talkies can also be classified according to the purpose. Let's take a look at some of them:
Walkie talkies for children: They are designed specifically for children to play. They are made of plastic and are very light. Walkie talkies for children are powered by AA or AAA batteries. They come in various colors and designs to attract more children. They have very low performance because they are practically toys.
Long-range walkie talkies: The most common type, they come with different covers. The coverage range increases with power. For example, a 2-watt radio can cover up to 8 miles, while a 4-watt radio can reach up to 30 miles.
Hunting Walkie Talkies: They are considered ideal for hunters. These devices come with boom microphones, car chargers and headsets so that hunters can speak and listen with as little noise as possible.
Waterproof Walkie Talkies: They can be used in all weather conditions and are often the most durable. The waterproof two-way radios are ideal as an important accessory for those who like trails, climbers, mountaineers and camping fans. They are reliable and high-quality products that surpass smartphones in terms of reception and robustness.
How to choose the right walkie talkie for you
Now that you know the different types of walkie talkies, you need to choose the best device for your use. Here are the main factors to consider when making your selection.
VHF versus UHF
When buying walkie talkies, you may want to pay attention to whether you are buying a very high frequency (VHR) radio or an ultra-high frequency (UHR) radio. VHF radios operate from 126 to 174 MHz. They work well over long distances where there is very little interference from buildings and landscapes. They generally have longer antennas than UHF radios and are good for penetrating foliage and trees.
UHF radios operate from 400 to 512 MHz. They are more versatile than VHF radios, as they can penetrate the building's walls. UHF has shorter waves and works best in situations with a lot of interference. UHF and VHF radios are not compatible. So, if you are buying more than one pair of walkie talkies, make sure they are of the same type.
Characteristics
When purchasing your walkie talkie, it is important to look for additional features such as hands-free operation, headphone jack and other extra functions. Some devices also come with privacy codes and noise cancellation features. If you are going to hunt, you should think about a radio vibration feature. You must also make sure that you do not press the talk button by mistake, so you should choose a radio with a keypad lock or a keypress alert. Other important features include:
LCD screen and backlit keyboard so you can see and use the gadget in the dark. A liquid crystal display allows you to see how much battery is left, display a compass, set alarms and timers, depending on the device's functions.
A 3.5mm microphone jack or speaker can help you operate the walkie talkie hands-free so that they can do other activities.
Receiving alerts: to know when a transmission is being transmitted to your device.
Conversation confirmation: This signals the start and end of broadcasts, so you know when it is safe to answer broadcasts and not speak in between.
Favorite channels: allows you to save certain channels so that they can be accessed more quickly.
Weather radio: allows you to choose weather reports.
Batteries
Walkie talkies work with different types of batteries. Very basic or toy devices tend to use AA or AAA batteries. The complete radios use a lithium-ion battery, a nickel-metal hydride battery, or a nickel-cadmium battery. It is important to know the estimated time of use on the radios you want to buy so that you can find out if you need to charge some extra batteries with you. Battery life is generally estimated at 90% of the waiting time, 5% of the reception time and 5% of the transmission time.
Battery life is important for users with little access to charging stations. This means that hikers, backpackers and hunters are likely to prioritize battery life features. If you are using the radio in a workplace, as a security team or at home, your chances of running out of power are slim.
There are two important variables in the actual battery life. First, the power of your radio makes a big impact. The higher the power, the more battery it consumes. For two radios with the same battery size, the one with the highest power will be drained more quickly. Second, the size of the battery inside your radio also affects the amount of charge. Battery size varies from model to model but is measured in mAh or milliampere hours. The higher this number, the more energy your battery has.
When you need more battery power, a good solution can be a spare battery. Before purchasing a walkie-talkie, find out if it has replaceable batteries. Some small devices run on AA batteries. Others have proprietary batteries. If you are going to be away from civilization for a while, make sure that the batteries can be changed easily and take some extras along with your equipment. The cost of spare batteries can vary widely, so do much research to ensure these spare items are within your budget.
Distance and reach
Walkie-talkie makers will make some somewhat distorted claims about reach. It seems that every cheap radio claims that it can communicate at absurd distances, such as 20 miles or more. The truth is that these numbers are based on theoretical data that generally does not simulate the real world. In most cases, manufacturers of walkie talkies specify the distance they can communicate with each other if there are no barriers, such as buildings and forests between them. You will be lucky to get more than 5 km away even from a quality radio if you do not communicate with someone in a straight line with no obstacles in between.
The more obstacles between the two walkies talkies, the worse the reach. But the radio's power also affects this range, with higher consumption of watts resulting in stronger transmissions. The power of the radio you choose to use must depend on several factors:
The line of sight affects the signal in a very real way. If there are walls, buildings, hills, trees or mountains between you and the other user, you will need a more powerful radio to connect.
Time can also affect the signal. Clear skies tend to allow radio signals to travel further. Cloudy, stormy or even cloudy weather conditions reduce the range in most cases.
Channels
Walkie talkies have different channels for several reasons. The more channels, the better, but not everyone needs many channels and can save money by buying one with less available. The more channels a radio offers, the higher the prices, so it is essential to know how to use your radio before making your purchase. Having a radio with more channels facilitates communication.
In busy areas, there may come a time when 22 channels will not be enough. The use of interference codes essentially provides an extra set of channels for communication. Most radios will have channels 1 through 22, but each channel can have a subchannel. These subchannels (for example, Channel 5 Code 5) provide a unique chat channel on their own.
There is no way to encrypt or block other users outside your interference channel. It only provides more lanes if the traffic is very heavy.
Best professional walkie talkie: Motorola T600BR
The Motorola T600 is a versatile walkie talkie. It is waterproof and can float, which makes it an ideal companion for anyone going camping or walking near water or going to use it on a boat. The unit comes with an IP67 rating. It could be submerged in water for about 30 minutes and leave functioning as if nothing had happened. This is one of its strengths, but it has many other practical functions.
On the left side of the radio, there are two push-to-talk (PTT) buttons. If battery power is a concern, you will never have to use the second PTT button, as it is only used for high power transmissions. All other important buttons and primary controls are located on the front of the radio. Located at the bottom is the flashlight with the on and off button located in the upper left corner. There is also a removable belt clip that doubles as a whistle. The T600 is particularly simple to operate. After installing the battery and reading the manual (which should take an hour or two if you've never operated a walkie talkie before), you're ready to go. AA batteries can also power it. The dual power supply is an indispensable resource today, especially if you're probably going to end up somewhere without an outlet nearby. You would need 3 AA batteries for each unit.
It is very easy to select any of the 22 channels. And for those times when you want more privacy during broadcasts, you have the option of 121 privacy codes. To be more clear, there are more than 2,000 channels to choose from, making it very likely that you can find an unoccupied channel easily. The battery lasts for a full day of moderate use, and the T600BR notifies you when it is time to recharge or replace the batteries. The flashlight turns on automatically if it falls into a body of water, which would make a recovery easy. There is VOX functionality so that you can use the radio without having to hold it. It is an important function for climbers, climbers, cyclists, etc. You have a choice of 20 ring tones to personalize.
Pros of the Motorola T400BR
Waterproof (IP67 standard) and floating
Range up to 35 kilometers
Up to 23 hours of autonomy
Speakerphone operation (VOX)
22 channels, each with 121 privacy codes
Flashlight with white LED and red LED
20 ring tones
Cons of the Motorola T400BR
It is heavier than most walkie talkies
A best walkie talkie with radio communicator: BaoFeng UV-5R
The BaoFeng UV-5R Dual Band is a VHF / UHF receiver. The radio comes with two power levels, 4 watts and 1 watt in the 136 to 174 MHz and 400 to 480 MHz frequency range. The UV-5R is inexpensive and compact and has a special 65-108 MHz VHF reception band, including the regular FM broadcast band. It has 128 memories for programming repeaters and simplex frequencies. The device supports dual reception and dual monitoring. Dual monitoring allows you to tune in to two frequencies and monitor them at the same time.
The BaoFeng UV-5R Dual Band runs on a BL-5Li-ion battery (7.4V 1500mAh), which can last for days, depending on usage. It is light and compact, making it easy to transport. It also has a bracelet and headset included. Other surprising aspects of this walkie talkie include a battery saving function, built-in flash, key lock, VOX encoding, DCS / CTCSS.
The UV-5R not only receives normal VHF and UHF frequencies but also can receive and transmit MURS, GMRS and FRS frequencies as well. Although the public can use these radio bands, they have their own rules of operation. So be sure to check your regulations before transmitting.
Pros of BaoFeng UV-5R
128 channels
Long-lasting BL-5Li-ion battery (7.4V 1500mAh)
Large LCD and a built-in LED flashlight
Great reception
Wide Frequency range: 136-174 / 400-520 MHz.
Dual reception and dual monitoring
Small price per unit, about R $ 125
Cons of BaoFeng UV-5R
It is not waterproof and therefore cannot be used for all weather conditions
Because it is a radio communicator, its operation is more complex, and many functions require a special license.
It is only sold with a single unit instead of a pair.
Best cheap walkie talkie: Motorola T100
One of the main strengths of this basic model from Motorola is that they are compact, work for a long time, even using AAA batteries and are very easy to use and set up. Its range is up to 25 kilometers and has 22 channels, making it ideal for those who need a simple device.
This entry-level walkie talkie model was not made for commercial use and did not have some common functions in the complete models. The main difference between these radios and a more expensive set is the lack of privacy codes, where each channel can have a set of subchannels used for privacy purposes.
The Motorola T100 is part of Motorola's "Talkabout" radio series. This radio range always includes a tone when closing the communication to replace the spoken "exchange." This is a great function for beginners or children. There is also a ringtone that you can send to locate a lost radio or let the other person know that you are about to say something. There is a scanner feature, as well.
This walkie talkie can work for a long time, even using AAA batteries. The ideal is to use rechargeable batteries, as the long-term investment in disposable batteries can be large.
Pros of the Motorola T100
Easy to use and operate
The cheapest on the list, the pair usually leaves for less than R $ 200
Flashing low battery alarm
Great life with AAA batteries, which are easy to find
Ergonomic and lightweight design
Includes belt clip
Cons of the Motorola T100
Not water resistant
Few channels and reach
Not multiband
Best water-resistant walkie talkie: Cobra CXT-545 Walkie Talkie
The Cobra CXT-545 was designed for outdoor activities, one of the few water-resistant walkie talkies (JIS4) sold in Brazil. Its floating design offers more security when using it in water bodies, and its range of up to 60 kilometers allows its use on boats and ships. The CXT-545 offers instant access to NOAA weather channels in the covered areas. There are 22 channels, each with 121 privacy codes. It has a maximum range of up to 45 km in ideal conditions. The effective communication distance in real urban conditions with several obstacles between the two devices is about 10 km.
The CXT-545 also has a built-in flashlight, 10-channel memory, automatic silencing, LCD, battery level indicator, power saving mode, automatic channel scanning, key lock, vibration transmission alert (Vibralert) and VOX hands-free operation. The VibrAlert feature works like a vibracall, where the walkie talkie vibrates to warn of a call, which is great for noisy environments or in situations that require silence.
The biggest advantage of the CXT-545 is its overall strength. It has rubberized side frames to enhance your grip and a built-in LED flashlight to help you find your way in the dark. It is also water-resistant in the JIS4 standard for use in adverse weather conditions. This walkie talkie will withstand heavy rains, gusts, storms and everything else that may come your way.
The CXT-545 operates on 3 AA batteries, which means that it is always easy to find extra batteries or take them with you while traveling. It can be charged in drop-in mode (where the device is placed on its charging base) and micro-USB, so you can charge it on your desk or anywhere with any micro-USB charger.
Pros of the Cobra CXT545
Range of up to 45 kilometers, depending on weather and terrain
VOX feature helps to detect the user's voice, leaving hands free
Battery saving function
Long battery life and charging via micro-USB
Rain and splash-proof (JIS4 standard)
Works as a flashlight
Vibracall function
Cons of the Cobra CXT545
Do I need a license to operate my radio?
No. Brazil does not require any license to operate ordinary walkie talkies, so most people don't have to worry about that. But some devices work both as walkie talkies and as radios. If you are operating a model like this, such as a HAM or GMRS, you will need a license to operate in the Citizen's Band (PX) or an amateur radio (PY) license. Of the products indicated here, only the Baofeng Uv-5r has radio capability. All others can be operated on without any complication.
Many countries require licenses to operate more advanced models of walkie talkies, so if you plan to take it on an international trip, be sure that the legislation of that country allows the use of your type of walkie talkie. The United States, for example, requires a license for radios with more than 22 frequencies.
Should I use AA batteries or a dedicated battery?
When it comes to walkie-talkies, AA batteries are a good option for most casual users. They are also easy to buy and small enough to carry with other camping and trail equipment.
If you're camping or hiking and can't recharge your walkie-talkie, replacing AA batteries is easy. There are many situations in which recharging an internal battery is difficult or even impossible without certain tools. For use in fixed stations, internal rechargeable batteries are a good idea as you will always have a charger nearby.