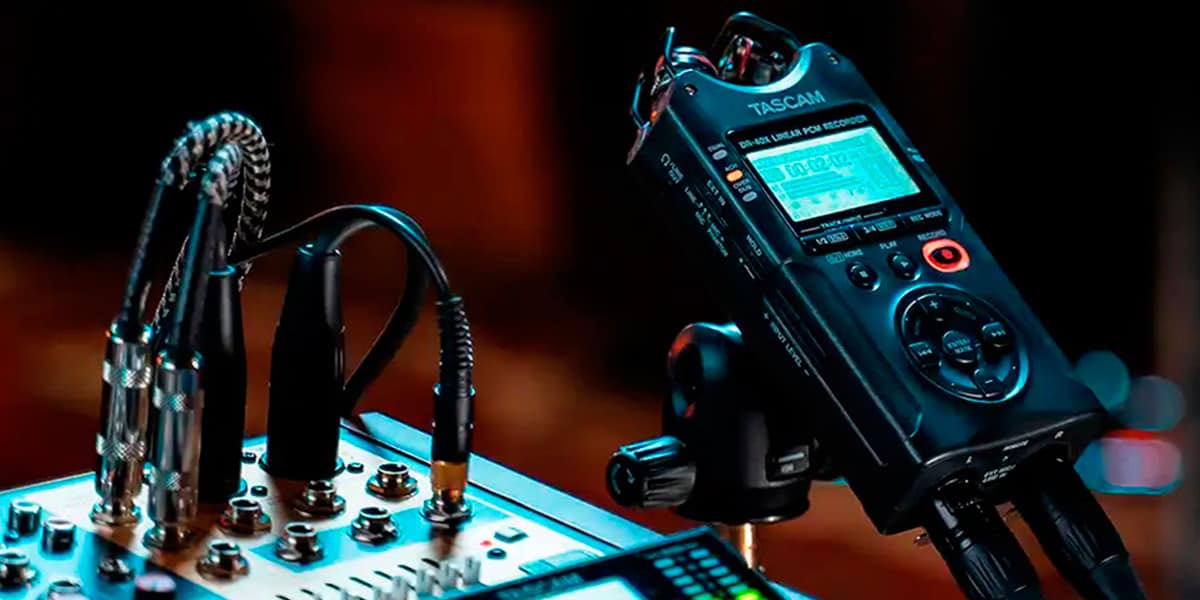 Audio recorders are a necessary tool for everyone who somehow works with audio. Recorders can be of the most diverse types, and the best voice recorder for you will be the one that meets your specific need.
However, with the large number of models available on the market, it is necessary to have minimum knowledge about this equipment. Only in this way will you be able to be right in choosing the best recorder for you.
Best Audio Recorders 2020
In this article, we bring you a series of information to help you choose the best audio recorder for what you need. We also got you an exclusive list of what we consider to be the best voice and audio recorder models on the market. Check out!
Types of Audio Recorders
Before you go shopping and choose the right audio recorder for you, you need to know each of the most popular models on the market. This is because each of them is thought to have a better performance in some specific aspect. Thus, it is possible that a particular type of recorder does not meet your needs even though it is of quality and has a high cost.
Field Voice Recorder
Field voice recorders are excellent recorders for anyone working with music, cinema, and video production. This is because its audio capture is unusual, far superior to capturing other voice recorders.
Also, it has its main advantage, which is the possibility of capturing audio from several channels simultaneously. This means that from its various inputs, it is possible to connect instruments, several microphones, or just one and charge all the equipment simultaneously.
Each model will bring several channels. That is, each model will support a different number of equipment. A field voice recorder with 6 channels supports simultaneous recording of up to 6 devices.
Portable Voice Recorder
A portable voice recorder is a recorder designed for those who always need to have the writer close by. Thus, some models are so small that they can be carried in the pockets without significant hassles. It is an ideal type of recorder for those who do not work with it, make recreational use of the recorders or use it, for example, to record lessons and make sporadic recordings.
Professional Portable Voice Recorder
Although they can be very similar, a professional portable voice recorder is dozens of times better for those who use the device professionally. That's because they usually bring a lot more resources to the user. Among these features is, for example, the elimination of noise, necessary for those who record outdoors. This means that this recorder can substantially reduce the noise around the recording and capture only the sound that matters.
Other excellent features that are often present in the best professional portable voice recorders are equalizers. They adjust the volumes so that they are more pleasant and also some types of sound effects.
Buying Guide: How to Choose the Best Audio Recorder
To choose the best audio recorder for you, it is essential to pay attention to the recorder's characteristics. Therefore, we have separated some of them for you to know the main ones:
Audio Quality
One of the first points to consider when acquiring the best audio recorder is the quality of the sound it generates. This is because some devices can identify more or less different sounds from the environment.
Therefore, it is necessary to analyze its type of use and check if the recorder meets the desired quality. For example, a voice recorder with a mighty noise cleaner can detract from some instruments' quality when it comes to music.
Likewise, when it comes to an audio recorder for podcasts, the audio must be as clean as possible, without detecting external noise.
Also, the audio generated by the recorder is closely related to the format that will be generated after recording. Therefore, it is always good to link the two parameters since mp3 formats, for example, are much more common to be found. However, it has more interference when it comes to quality than other formats like WAV and AIFF.
Recording Time
Another feature of the recorder that is directly linked to its use is the recording time. Currently, on the market, they have a good memory to the point of, for example, being able to record audios for more than 10 straight hours.
However, it is essential to note that this feature directly impacts the device's price—the lower the price, the lower the memory, and consequently, the possible recording time.
This characteristic must be evaluated after deciding on the type of use, audio quality, and desired format. This is because audios with a higher rate, in more complex structures, usually occupy a larger space in the recorder's memory.
So, if you need a recorder where professional audio quality is not required, you may not need to purchase the most extensive memory on the market, either.
Lower quality audio will take up less space, making it possible to record many hours without paying more on your recorder.
Size and Weight
With the evolution of technology, currently, there are different types of sizes and weights of audio recorders on the market.
For example, while there are great recorders that are the size of an old cell phone, others can be smaller than pen drives. Therefore, evaluating the transport, storage, and usability of the device is very important to avoid future problems.
In addition to considering the weight and size itself, it is essential to note that, in general, the devices that have higher quality are those that also have a larger size and greater weight. So it is necessary to consider what your priority is and invest in the ideal product.
Compatibility
It is essential to check compatibility to transfer audio to notebooks, cell phones, or other devices. Although the vast majority are made using a USB cable, it is essential to note that some more specific models will need specific software.
At this point, some Windows, Apple models, and, mainly, some Linux systems may be left out and not be compatible. Do not risk investing in the best recorder, and when transferring the audio to be used, errors occur. So check this information in advance.
Extra Functions
Finally, other extra functions can be found in the best audio recorders. These additional functions can mainly facilitate post-production work, such as filters with noise reduction, voice modifiers, equalizers, and even special effects.
Other extra functions can be found and more than one type of audio output, such as connections for headphones, connectors for different types of microphones, and much more.
What is the Best Voice Recorder 2020?
If you understand what the main characteristics to be aware of when choosing the best audio recorder, but still don't know where to start, know our main indications for the best audio recorder!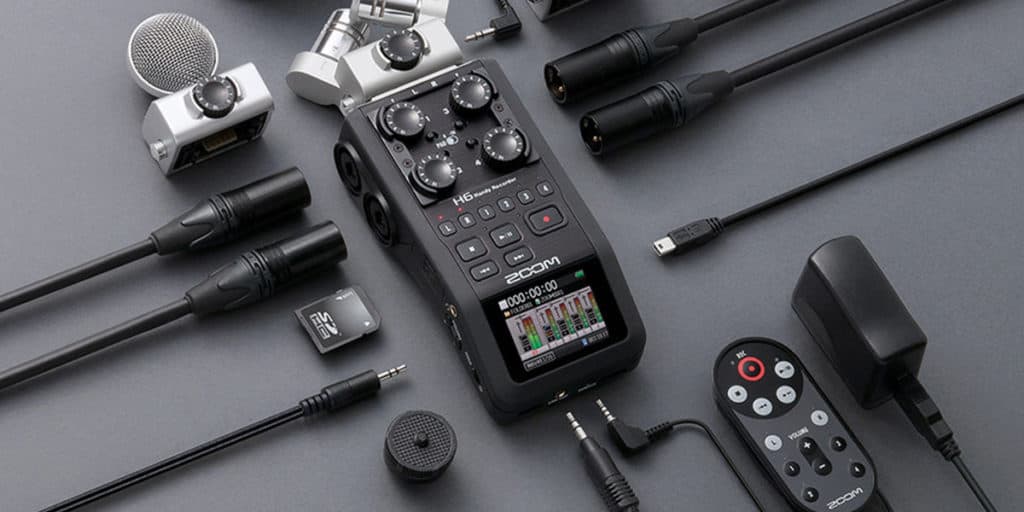 Zoom H6
Best Audio Pickup
WHAT WE LIKE
A good number of microphone inputs
Adjustable angles
Optimal capture quality
Perfect for high-quality audio
Incredible design
WHAT WE DON'T LIKE
For those looking for the best audio pickup on the market, they are indeed looking for the H6 Handy from Zoom. We are talking about a USB recorder and an excellent audio interface. More than that, it is an audio pickup with interchangeable microphones and completely portable, which can be carried inside bags and backpacks without significant hassles.
The H6 Handy has mid-side microphone modules with an adjustable angle, as well as foam windshields. With this, it is possible to make recordings in a super versatile way using creativity to create excellent recordings. In situations that require a more generous definition of audio, it is possible to control the stereo band's width right after the audio is recorded.
Also, the H6 has four inputs with XLR / TRS combination. In them, it is possible to connect sources of microphones or external lines. Each of these four inputs is equipped with fully dedicated preamps that have easily-accessible gain buttons.
For those who need the best audio recorder to capture sounds while filming, the H6 is also ideal. It can be connected directly to the professional camera. The MSH-6 microphone capsule and onboard MS decoding help in the diversity of creative possibilities in post-production.
Its memory is made using SD cards, both standard models as well as SDHC and SDXC up to 128 GB.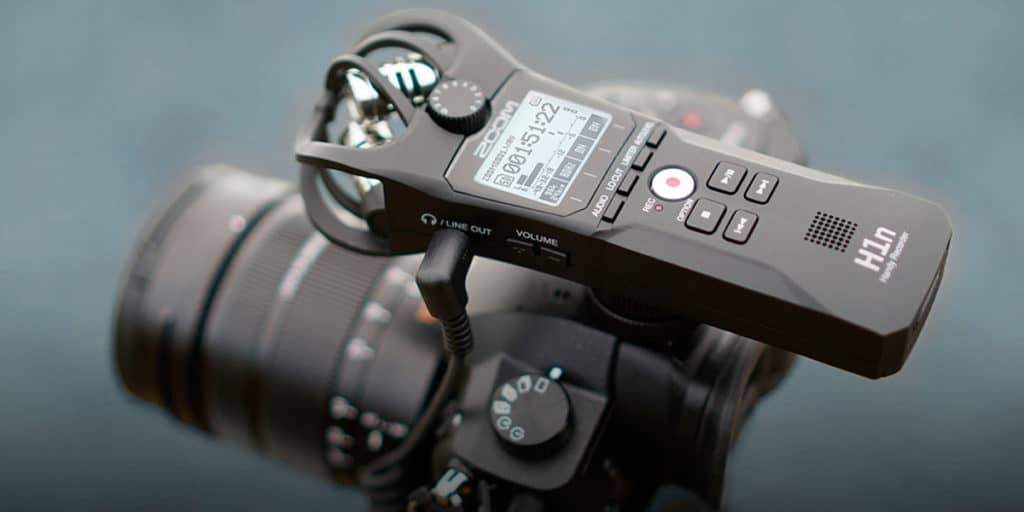 2.Zoom H1N
Our Choice
WHAT WE LIKE
Possibility to include sound effects
Good battery life
MP3 and WAV format
Clean, easy-to-read monitor
Post-production software licenses
Great song
Compact and lightweight
WHAT WE DON'T LIKE
Considerable noise capture
Accepts a maximum of 32 GB microSD
Limited functions
With the Zoom H1N, it is possible to have a number of advantages at the time of recording.
It is possible to record two audio tracks in high resolution without needing a large recorder. On the contrary, it is an extremely portable microphone. As a result, the recording becomes much more straightforward as it is possible to do it by holding the recorder in your hands or placing it on tripods and other microphone stands.
The recording quality gets better with its built-in X / Y microphone and an integrated stereo microphone capsule for speech. Its audio support in WAV and MP3 makes the possibilities of configurations extensive.
Since it is a recorder derived from the original H1, the Zoom H1N brings several updates to its workflow and performance. Thus, it becomes excellent equipment to meet the needs of the most diverse professionals, such as videographers, podcasters, and sound recorders.
The recorder also has a very high battery life, 10 hours of recording possible. In this way, you can also use it to supply plug-in power to a lavalier condenser microphone or even accept a direct connection from a mixer or wireless receiver.
To help with the correct recording, it is also possible to configure the automatic recording and the pre-recording mode, and the timer. All this, using as storage a micro SD with up to 32 GB.
Finally, for those looking to venture into post-production, Zoom H1n comes with free download licenses for Steinberg's Cubase LE music production software and WaveLab LE audio editing software.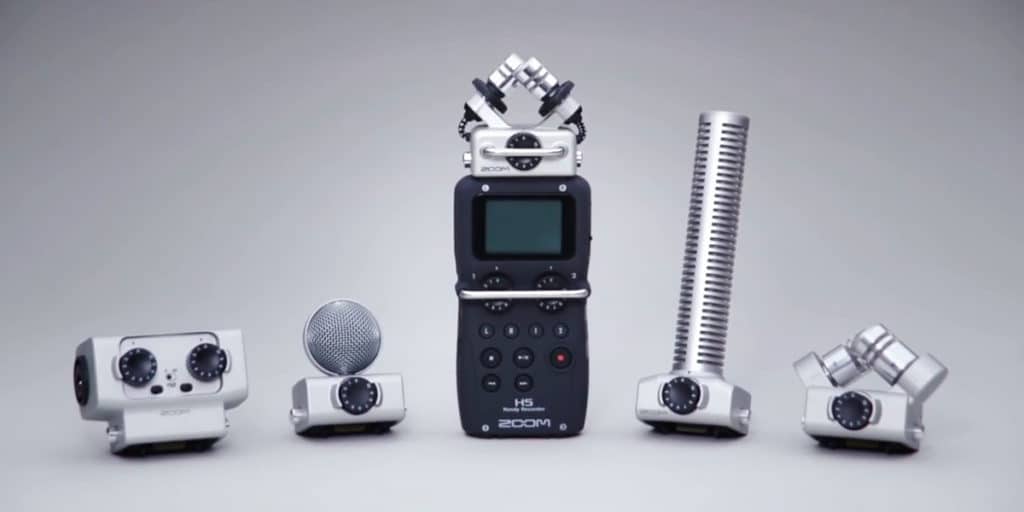 3.Zoom H5
Best Cost-Effective Audio Recorder
WHAT WE LIKE
Great audio capture
A good number of exits
Good cost-benefit
4 Simultaneous recording tracks
Very compact
Robust build quality
WHAT WE DON'T LIKE
It may not be ideal for recording very closely
No manual in Portuguese
For those looking for the best cost-effective audio recorder, they will like the Zoom H5. It is a recorder that provides the user with 4 simultaneous recording tracks, being able to use Zoom's interchangeable capsules to choose the best microphone at that specific moment.
With the Zoom H5, it is possible to have a powerful performance that gives the possibility to create multi-track recordings, podcasts, broadcasting and even electronic newsgathering.
Thanks to its X / Y type recording, it is possible to make recordings of excellent quality even over a wide area. Two unidirectional condenser microphones together form a 90-degree angle for better pickup.
When including an XLR / TRS capsule, you will have two more inputs at your disposal. Thus it is possible to connect up to 4 different audio sources such as microphones and musical instruments.
In addition to outstanding audio inputs, the outputs also leave something to be desired. It has a Line-Out that can transmit audio hopefully to other microphone inputs in a flexible manner. Also, it has a headphone and USB port for interfacing with computers and ipads.
To store files in MP3 and WAV format, the Zoom H5 uses memory cards up to 32 GB. In terms of autonomy, with alkaline batteries, its duration is 15 hours of continuous recording.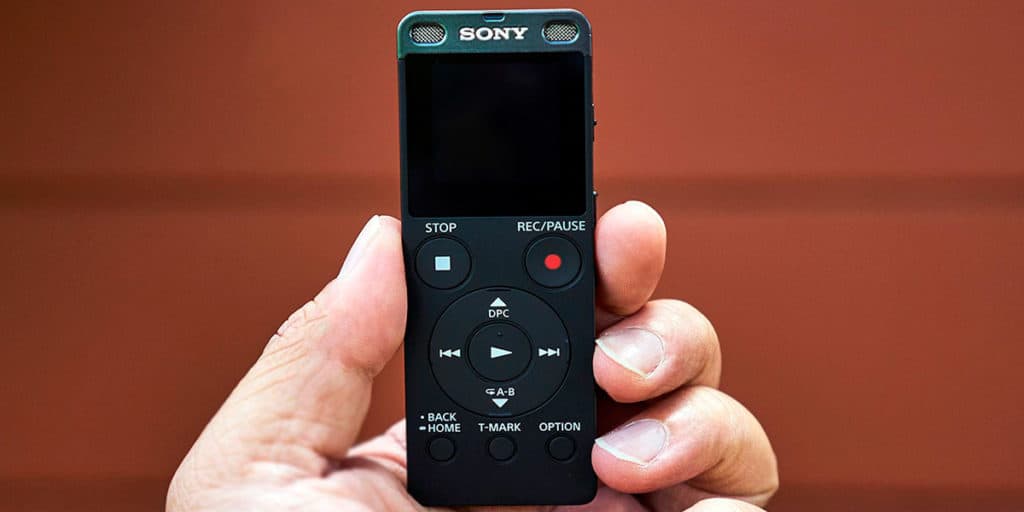 4.Sony UX560
Most Portable Audio Recorder
WHAT WE LIKE
Compact
Light
3.5 mm microphone input with plug-in power
Sharp LCD screen
Sound quality
Active by voice command
WHAT WE DON'T LIKE
Intermediate internal memory
Few customization features and effects
Fragile material
If you are looking for an efficient, small, portable audio recorder that can be stored anywhere, check out the Sony UX560.
With the best portable audio recorder, it is possible to capture audio in two formats: WAV and also MP3. This choice option allows you to customize your audio already, without having to do any conversion in post-production if you choose a more or less worked audio.
To capture audio, it has a two-element microphone system. Thus, with two modes, it is possible to make the recording both in a focused way, as well as in a comprehensive manner for lectures or larger events.
Just as its operation is effortless and intuitive, so is file transfer. Connect to a computer or notebook via a standard USB 2.0 port and transfer as usual. Also, there is no need to worry about wires, since the USB is already built into the device itself.
When it comes to memory, the Sony U560 also gets good numbers. Altogether there are 4 GB for internal storage. Although not very large, it can be expanded using microSD (compatible with SDHC and SDXC). Thus, it is possible to record around 39.75 hours in MP3 format.
Its built-in lithium battery achieves a recording time of 1 hour and a supercharge of 3 minutes.
5.Zoom H4N Pro
Good Audio Recorder for Professionals
WHAT WE LIKE
Great noise silencer
Lots of effects
Post-production software license
Intermediate Size
WHAT WE DON'T LIKE
Input ¼" unbalanced
Adjusting slow input levels
Finally, if you want high-quality audio and professional line equipment, check out the Zoom H4N Pro. A digital voice recorder that meets all the expectations of those looking for equipment in this category.
One of the first features to be highlighted in the Zoom H4N Pro is its integrated X / Y microphones, with which it is possible to capture excellent stereo audio. For those who prefer to use external microphones, it is also possible thanks to its two combined connectors. When it comes to audio output, the H4N Pro also features a headphone jack. In this way, it is possible to send stereo audio to other devices.
In terms of the type of file generated, the professional recorder can record in WAV format. Thus, this recording, in addition to being of quality, still has a time indicator to help synchronize with videos.
Another positive point of the audio recorder is its series of extra features and functions. For example, Zoom H4N Pro has Overdubbing and Punch-in functions as well as other studio effects control, including compression, limiter, reverb, delay, echo, and low cut filter.
To make and save the recordings, it is possible to use SD cards and also SDHC up to 32 GB. This memory, connected to batteries up to 10 hours long, allows you to record a large number of contents.
If you are still interested in post-production, know that the H4N Pro also contributes to sound post-production. That's because it makes free licenses available for Cubase LE software and also WaveLab LE. With them, it is possible to take care of audio editing and music production in a professional way.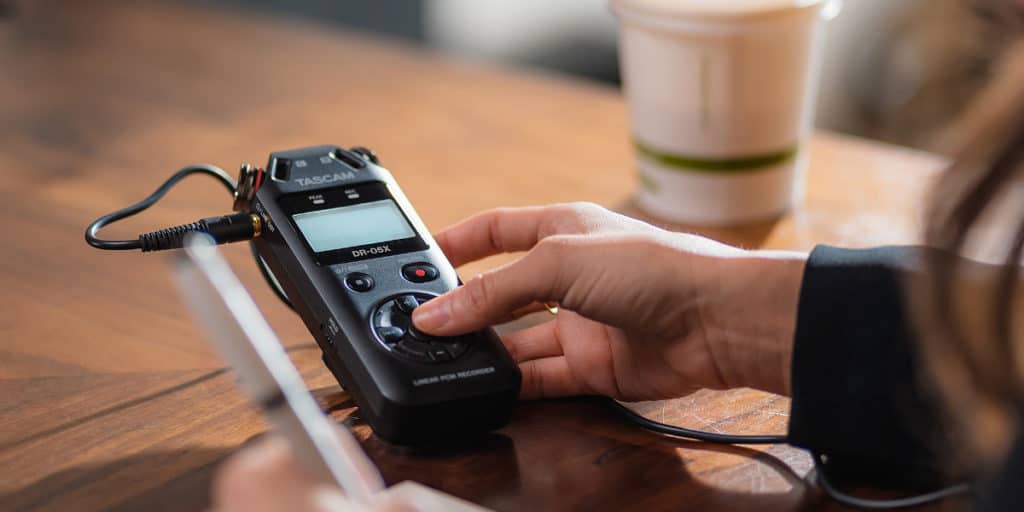 6.Tascam DR-05X
Audio Recorder for ASMR and Podcast
WHAT WE LIKE
Easy to use
Multipurpose
2 USB inputs or outputs
Stereo sound
Simple setup
WHAT WE DON'T LIKE
For us, no cons were found
The Tascam DR-05X is one of the best in the Audio Recorder category for ASMR and Podcast.
With stereo sound, it is portable, with a pair of high-quality omnidirectional microphones with this technology.
Among its uses are voice recording, dictations, meetings and even for music capture applications.
It is easy to control, with level adjustments, a button to quickly delete the wrong takes, the possibility of adding bookmarks to the audios and even a menu in Portuguese.
The device is suitable for indoor and outdoor environments, with noise, as it has capacitors that ensure clarity in recordings. Also, its display has white illumination, making it easy to read even in bright sunlight.
That is, the model will well serve live streams, podcasts and even workstations that need quality digital audio.
Finally, it is still easily coupled in several models of cameras, including professional and semi-professional, and can be used as a microphone and to capture ambient sounds in captures of videos and audiovisual materials.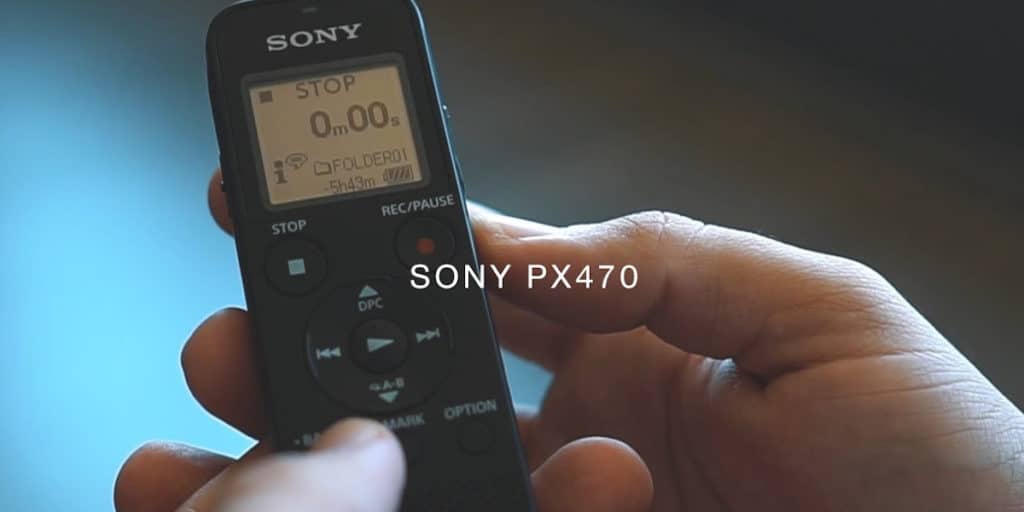 7.Sony LCD-PX470
Cheap Recorder for Field Interviews
WHAT WE LIKE
Lightweight and portable
Internal memory
MicroSD expandable memory
USB input / output
Easy to set up and use
WHAT WE DON'T LIKE
Non-rechargeable uses batteries
If you are a journalist, blogger or even Youtuber, you can take your Sony LCD-PX470 and go outside. After all, he is one of the best in the category Cheap and Portable Recorder for Field Interviews.
With two recording modes: focus and panoramic stereo, audio quality and clarity are guaranteed.
Also, the model has an internal memory of 4 GB and can still have its storage capacity expanded by up to 32 GB, using a MicroSD card.
Thus, you do not need to be deleting takes all the time and, even less, you need to transfer the audios immediately to another device.
This is another simple process, as the recording is already done in MP3 and connect the device to the PC, via USB, to access and transfer what was recorded.
As for the recording autonomy, at 128 Kbps it is 59 hours and 35 minutes. The toothpick batteries (AAA), necessary for operation, last on average 57 hours until they need to be replaced.
Conclusion
Anyway, now that you know the main features, it's time to go in search of the best audio recorder for you. Therefore, remember to always look for the recorder that will meet your needs and that fits your budget.
It is also important to check each of the information mentioned here so that you have a better chance of getting it right on the best audio recorder. Also, be sure to check out our nominations for the best audio recorder, certainly one of them will be the ideal model for you!